Welcome to Iris Thill's Bio Page.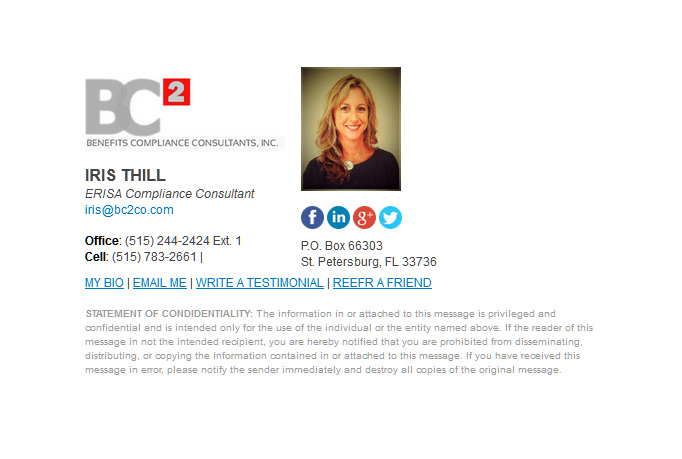 Iris Thill, Is A Managing Director Of Benefits Compliance Consultants, Inc.
Iris Thill is a Benefits Compliance Specialist and a Managing Director at Benefits Compliance Consultants, Inc. Her primary responsibilities include oversight of company operations and all ERISA compliance solutions.  Iris also oversees the ERISAlliance Network and is responsible for managing our partnerships with TPAs, HR firms, brokers, and clients.  Iris has over 20 years of experience providing professional consulting on employee benefits, benefits administration, and ERISA compliance. Prior to becoming a Managing Director for Benefits Compliance Consultants, Inc., Iris worked for Marsh McLennan Companies in corporate and fiduciary accounting, compliance training, and employee benefit services.  Most notable is her 10 years of experience as a Senior Associate where she supervised the Form 5500 Service Center for Mercer. She has received numerous recognition throughout her career and is the proud recipient of the coveted TR Award. Apart from her career aspirations, Iris is a devoted wife and mother, loves to travel, and is an accomplished table tennis and volleyball player.
---
Would you like to refer a friend for BC2 professional services?
Would you like to leave a testimonial on Iris or BC2?
Read testimonials written by other people.